Conference Details and Logistics
Venue: Atlanta, Georgia, USA
Atlanta, Georgia (metro population: 6 million) is the largest city in the U.S. South. It is known as the birthplace of the Civil Rights Movement, the 1960s movement to end a long legacy of segregation in the US. Atlanta was officially founded 1837 as a small city at the crossroads of two major railroads. Although many buildings were destroyed during the Civil War in the 1860s, the city grew during the Reconstruction Era after the Civil War. It is home to major research universities and a set of prominent Historically Black Colleges and Universities (HBCUs) including Morehouse College and Spelman College. In 1996, Atlanta hosted the Summer Olympics. From 1998 until 2019, Atlanta's Hartsfield-Jackson International Airport was the world's busiest airport in terms of passenger traffic, with 110 million annual passengers at its peak in 2019. Atlanta is headquarters to Coca-Cola, Home Depot, Chick-fil-A, and Delta Airlines, and has a growing film and arts industry that includes Warner Bros. and Tyler Perry Studios.
Atlanta is known as a 'hot' city (due to its weather), a city with a diverse population, the home to a winning baseball team–the Atlanta Braves, the 'forest city' (because of its many trees), and the capital of Georgia (the 'Peach State'). When residents aren't joking about the heavy traffic, they enjoy the aquarium, zoo, many parks, the Atlanta Beltline, the Center for Civil and Human Rights, and the dozen new breweries that now dot the Westside.
Conference Venue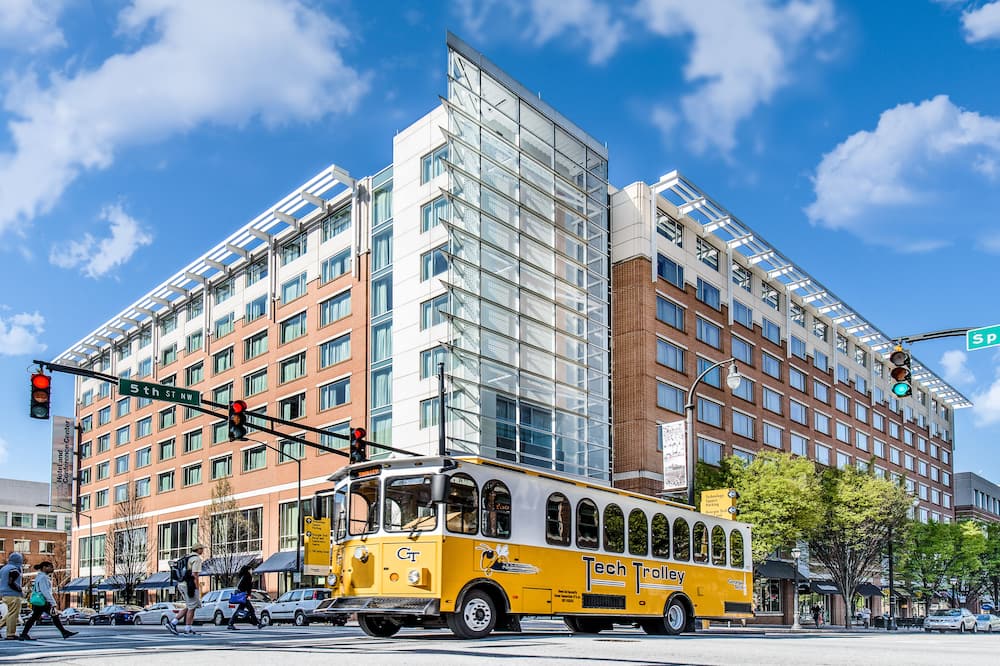 Georgia Tech Conference Center and Hotel
Located in: Georgia Institute of Technology
Address: 800 Spring St NW, Atlanta, GA 30308
Phone: (404) 347-9440
https://www.gatechhotel.com/
Location: https://goo.gl/maps/xEoRfgfuKuMXV1QY9

The main conference will take place at the Georgia Tech Hotel and Conference Center in the heart of Tech Square, on Georgia Tech Campus. It is located in the Midtown neighborhood of Atlanta. You can also find the hotel on the towards east side of Georgia Tech's campus: https://map.gatech.edu/
Science Slam Venue
The Science Slam will take place at Rocky Mountain Pizza, a local favorite pub–a 20 minute walk through the Georgia Tech campus, or a shuttle ride on the Tech Trolley.
Rocky Mountain Pizza
1005 Hemphill Ave NW
Atlanta, GA 30318
(404) 876-8600
https://www.rockymountainpizza.com/
Location: https://goo.gl/maps/3PPyZxiJq6424wgEA
Banquet Venue
Park Tavern
500 10th St NE
Atlanta, GA 30309
404-249-0001
https://www.parktavern.com/
Location: https://g.page/park-tavern-atlanta?share
Walking/Dining in Midtown
We recommend that you bring comfortable shoes for touring around the area! In June, it is likely to be very warm.
The conference neighborhood is called Midtown. In close proximity, you can find nice cafes and restaurants. Georgia Tech students and faculty, and as local residents including Midtown's large LGBTQ community, walk around the tree-lined streets, go to Piedmont Park and hang out at local favorite places. For a quick taste of midtown, we recommend Sweet Hut (boba tea, coffee), Cafe Intermezzo (our Euro-style restaurant with lots of dessert) or Momonoki (Japanese style for coffee or lunch, and more), Cypress Street Pint + Plate (the local pub). And for a taste of southern cuisine, Bon Ton (dinner til 10 pm) or Mary Mac's Tea Room (a historic Atlanta classic) are nearby. There is a local CVS pharmacy and Publix grocery store nearby in Midtown.
Outside of Midtown, there is shopping in Atlantic Station, and a nice food hall at Ponce City Market, where you can walk on Atlanta's Beltline as well! You can find even more suggestions here: https://docs.google.com/document/d/1wf_20HrjhGeCAvexTQVmJUj1mk2mzun_6yipxH3a7z4/edit.
Code of Conduct
All persons, organizations and entities that attend AAAI conferences and events are subject to the standards of conduct set forth on the AAAI Code of Conduct for Events and Conferences. AAAI expects all community members to formally endorse this code of conduct, and to actively prevent and discourage any undesired behaviors. Everyone should feel empowered to politely engage when they or others are disrespected, and to raise awareness and understanding of this code of conduct. AAAI event participants asked to stop their unacceptable behavior are expected to comply immediately. Sponsors are also subject to this code of conduct in their participation in AAAI events.
For more information about AAAI's Code of Professional Ethics and Conduct, please also see here.
Getting Around/Transportation
Getting from the Airport to the Conference / Georgia Tech Campus
The MARTA is Atlanta's subway system. Trips cost $2.50. MARTA cards (called Breeze Cards) can be purchased at the Airport or at any MARTA station. From the airport, take the Red/Gold line north towards Doraville or North Springs.
You can get off at North Ave Station (N3 below) and walk four blocks north. Here is an example route from the airport.
At night, we encourage visitors to go one extra stop and alight at the Midtown Station (N4) and walk southward (or take the Stinger Bus) to the hotel.
Other Transportation
Bike rentals and scooters are available on street corners. Uber and Lyft are also available in the area.
There is daytime and overnight street parking available at the hotel (during the day the charge is for $2 per hour 8:00-22:00 Monday-Saturday). There are also parking garages in the area that charge about $20 per day.
Getting Around Georgia Tech Campus
Our campus shuttle is called the Stinger Bus (you may hear some people call it the Tech Trolley). The routes can be found here. You can also download the Stinger Bus app.
Accomodations
Conference Hotel
Participants and visitors can book a room at the conference hotel (the Georgia Tech Hotel and Conference Center) or book other rooms in another hotel of their preference.
ICWSM is offering special rates at the Georgia Tech Hotel and Conference Center. Non-smoking King bed accommodations have been blocked for this group at the rate of $195 per night.
Book here: 16th International Conference on Web & Social Media-Reservations Link [Georgia Tech Hotel & Conference Center Secure Online Reservations (secure-res.com)]
Please reserve before May 6, 2022.
For any additional nights needed before or after the posted group dates, please contact the hotel directly at +1 (800) 706-2899 to check availability. Note that rooms are non-smoking.
For any other requests or inquiries, please enter this information within the appropriate request boxes during the reservations process or call the hotel directly by calling +1 (800) 706-2899 or (+1 404) 838-2100.
For those attendees driving to the hotel, overnight parking is $21 per night with unlimited in and out access to the garage.
---